Registration Closed
For further assistance with registration for this event, please contact the event director Brad Hudnall at 940.594.4256 or email brad.hudnall@jostens.com .
Registration after June 3, 2016 should be faxed to 940-240-0134 using the Registration Worksheet form available online.
Workshop Costs
COMMUTER RATE
$225 before May 20, 2016; $275 after until final deadline June 3.
Includes registration, materials and art session.
RESIDENT RATE
$275 before May 20, 2016; $325 after until final deadline June 3.
Includes registration, materials, art session and lodging Monday & Tuesday nights (students must be accompanied by an adult chaperone, also staying on campus).
COMMUTER MEAL TICKET
$30 includes lunch Monday/Tuesday/Wednesday
RESIDENT MEAL TICKET
$60 includes lunch-dinner Monday, breakfast-lunch-dinner Tuesday, breakfast-lunch Wednesday
ADDITIONAL FEES
Please see the Registration Worksheet for costs and explanations of adviser discount, photograph fee, private room and Sunday night lodging.
Faculty & Staff
Each and every instructor at our workshop brings an experience and expertise that will help you build better publications.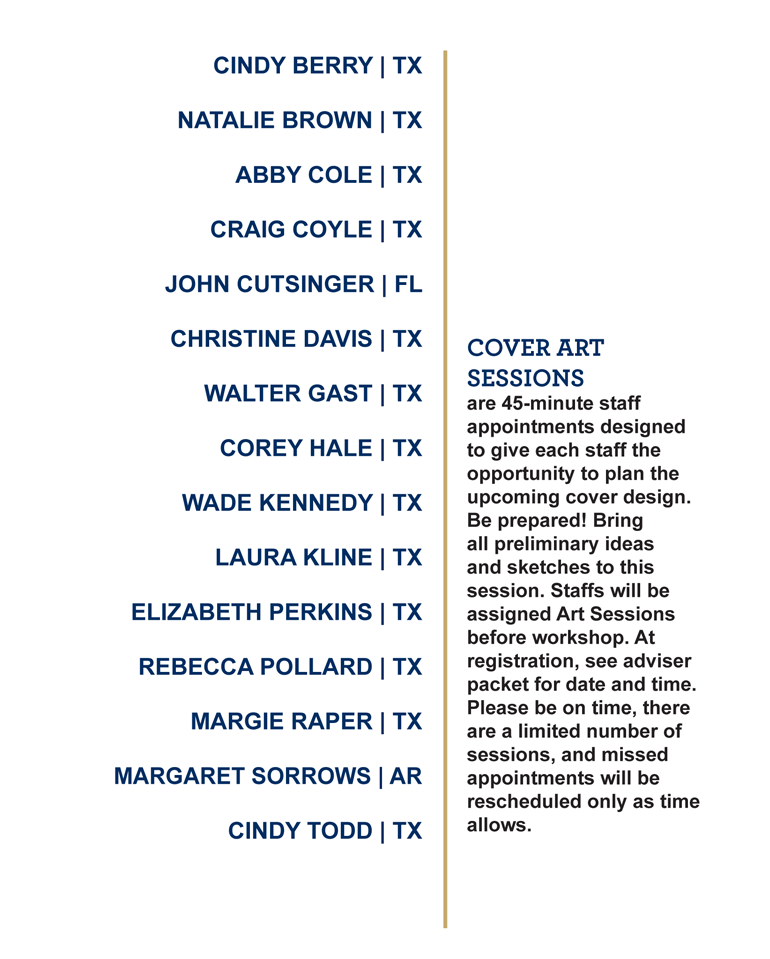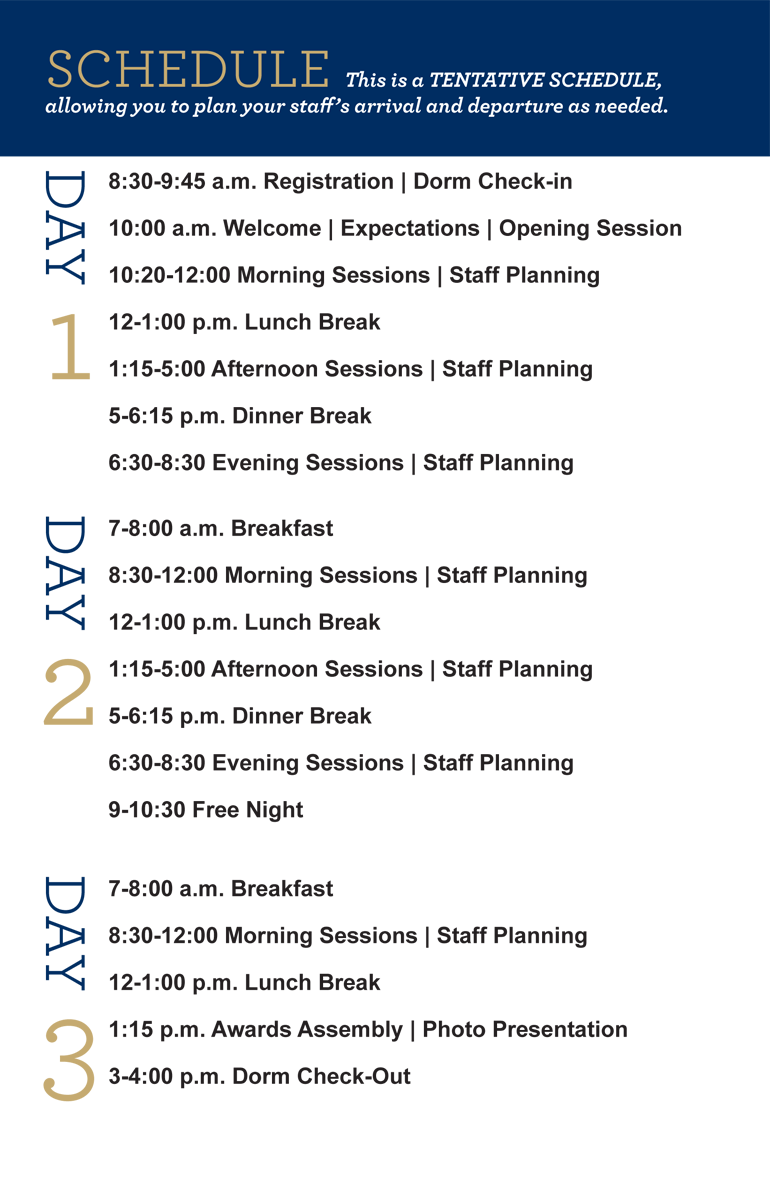 What matters
MOST
Make all-inclusive and intimate storytelling with graphically enhanced design the driving forces of your yearbook and newspaper publications! This summer's workshop experience will allow you to accomplish MOST of your planning in three days rather than the first six weeks of school. The end result will be the most highly customized and individually personalized concept, coverage and design only you can imagine.
MATTER OF FACT… Planning revolves around building and layering an innovative concept for your publication; uncovering fresh ideas and angles for inclusive coverage; discovering a new voice in your writing; and strategizing content-driven graphic design. Our instructors will present More of everything including the hottest trends followed up with the personal attention you want and deserve.
BOTH TRACKS...
...will provide hands-on concept development.
...will include coverage, ladder and deadline planning
...will either keep or bring the staff together each day
TEAM TRACK… Staff members will work together as a team to brainstorm the theme concept, coverage and content, with hands-on time to implement those ideas in their yearbook portfolio. They will leave with cover, endsheets, title/parting pages, opening/closing spreads, dividers and graphic cool tools to strengthen the theme's verbal-visual impact. Emphasis will be placed on working together to create a meaningful book for the student body, as well as getting everything in place for an easier start to the school year along with strong theme integration and design opportunities.
SPLIT TRACK…* Staff members will meet primarily in a basic skills training class with specific assignments. Advanced designers will reinvent the look of the book while editors will work with track leaders to customize a guided hands-on creation plan which they will complete during the workshop. Key meetings will be set throughout the workshop for the editorial teams to meet with advanced designers and staff members to share their plans for the book. Rookie staff members will learn and practice yearbook journalism skills including, reporting, writing and design. Advanced and editor projects will range from theme development, coverage plans, graphic designs and promotion/selling strategies as determined by the leadership team.
*Prerequisite Required.
Specialty Tracks
YEARBOOK ADVISER
Covers all topics taught in Team/Split Track sessions but without hands-on work time. The track runs concurrently to other classes, with specific times for advisers attending with staffs to meet for planning sessions. The class will also look at a range of topics from deadline management to staff motivation and morale, as well as Jostens new products and services for the upcoming year. Perfect for advisers attending without students, advisers wishing to work with their staffs on the concept and creation of their book should enroll in the same track as their staff, not the Adviser Track.
NEWSPAPER
Beginners will develop reporting, interviewing and writing skills in news, features, editorials, sports and headlines. Advanced staffers will refine journalistic skills, develop leadership and editing skills and establish the coverage for next year's paper. Staffs are highly encouraged to bring a laptop to implement their plans.
NEWSPAPER INDESIGN*
A series of mini-sessions on newspaper design topics using InDesign and Photoshop. Primarily for print, but some online publishing is discussed. Writing and photography skills are not taught, and YearTech will not be included. *Space is limited. Laptop and InDesign CS 4 or higher required.
DIGITAL PHOTOGRAPHY**
Develop photographers' artistic and technical skills. Participants rotate between lecture and shooting assignments for hands-on experience. Photos will be downloaded for immediate critique. Photographers will leave campus as a class for off-site Photo Shoots each evening. **Camera and $50 lab fee required per participant, Laptop required per staff. Limit four students per staff.
For your final project:
Bring these supplies to help create your publication theme packet. Laptops are highly encouraged for all classes, but required for InDesign, Photography and split Track classes.
YEARBOOK
• 2016 yearbook & ladder • pencils & pens • cameras • scissors & glue sticks • pica ruler • spiral notebook • magazines • ideas for cover, endsheets, theme pages & spread designs • laptop w/ creation software encouraged (required for split track)
NEWSPAPER
• 2016 newspapers • stylebook • editorial policies • staff manual • notepad pad • pencils & pens • laptop with word processing program encouraged • ad contracts • school calendar
NEWSPAPER INDESIGN
• laptop with InDesign CS4 or better • powercord • flashdrive • spiral notebook • pen & paper
PHOTOGRAPHY (limit four per staff):
• camera, 4 megapixel or better • extra batteries • camera manual & cables • electronic flash • tripod and/or additional lenses • laptop with digital editing software required (per staff)
RESIDENTS
• fan • radio • shower shoes • pillow & bedding • snacks • alarm clock • spending money • towels
ALL PARTICIPANTS
• a light jacket or sweater is recommended • comfortable shoes • change for vending machine